Price per 100: €0,75 excl. VAT per piece
Price per 500: €0,70 excl. VAT per piece
Description
Venke automatic flow-through valves ensure optimal and constant water delivery from the first to the last drinking nipple in the entire barn, independent of water pressure.
You choose the amount of water that comes out of the drinking nipple, e.g. for piglets 0.25 litres per minute, and regardless of the pre-pressure (between 1 and 6 bar) 0.25 litres per minute comes out of the drinking nipple. A pressure reducing valve per department is therefore unnecessary.
You can confidently turn up the pressure to ca 2-3 bar. (Less has little effect and more is unnecessary). This gives you a good supply of drinking water everywhere. This also keeps the quality more constant as bacteria have less chance due to the high-pressure system.
The water no longer sprays out of the drinking nipple despite the pressure due to this system which simplifies water intake. The pigs spill less and can get rid of the water.
The flow-through nipples come in a variety of models and selected for each animal group. App or email us a picture of your drinking nipple (not mounted) and we will think along with you.
---
Related products:[columns] [span3]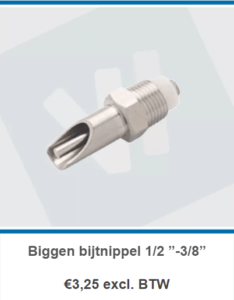 [/span3][span3]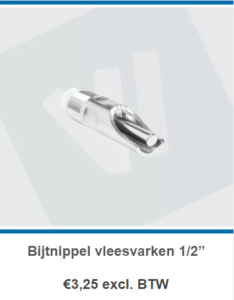 [/span3][span3]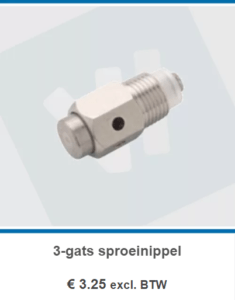 [/span3][span3]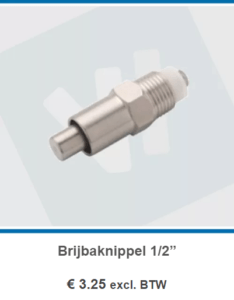 [/span3][/columns]